Equestrian statue of Genghis Khan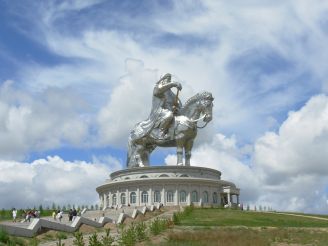 The world's largest statue of the emperor Genghis Khan Mongols built in 2008. The statue is located on the bank of the Tuul River in the province Tsonzhin-Boldog, 54 kilometers east of the Mongolian capital of Ulan Bator . According to legend, in this place Genghis Khan found a gold whip.
The whole world knows the great conqueror Genghis Khan as that for his cruelty and ruthlessness in his time induces fear in all of Central Asia, Eastern Europe, China and the Caucasus. For Mongolians it - a national hero, and his memory is perpetuated this huge equestrian statue.
At ten-pedestal Genghis Khan sits on a huge horse. The height of the statue is 40 meters. For the manufacture of an equestrian statue used 250 tons of stainless steel. At the foot of the statue are numerous souvenir shops and trays where you can try the Mongolian national clothes and taste national dishes. On two floors inside the statue itself is an art gallery, a museum of history, restaurants and billiard rooms, a conference hall and shops with souvenirs. At the top, in a horse's head, friendly large observation deck, which has lovely views of the surroundings. The area around the statue there is a platform for the tent settlements, as well as thematic areas that show the history of the era of the Mongolian people.