Monument of Suhe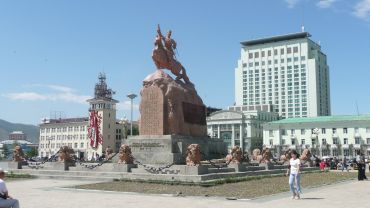 Monument to the national hero of Mongolia Sukhbaatar Damdinov was installed in the central square of the capital of Genghis Khan Ulan Bator in 1921. Sukhbaatar vestments Commander sitting on a horse. His right hand is raised up. Statue captures the time of referral to a speech hero arats Urga. There are 16 massive pedestal sculptures snow lions with chains in canines surround the monument. In Buddhist art like lions symbolize protection against damage from all corners of the world.
It is interesting that during the manufacture of statues serious difficulties. The fact that the capital was not a big studio to accommodate such a figure. Therefore, the material from which made the monument had to bring them to other towns.
According to Mongolian tradition every year on February 2nd, the birthday of Sukhbaatar, people carry flowers to the monument.