Winter Palace of the Bogd Khan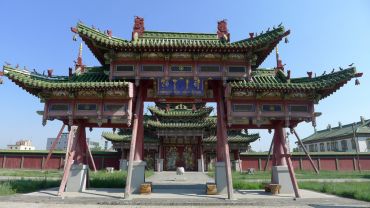 Palace of the last Mongolian monarch VIII Bogd Gegen in Mongolia was built in the center of Ulan Bator in 1893-1903. The palace consists of summer and winter palace. Summer residence was built of wood, it burned several times in the fires, and then again restored. 
Until today, only 7 survived the ancient buildings of the complex's summer palace. Entrance to the palace was provided through the Triumphal Arch, and most of the palace are two courtyard. In the first courtyard lined painting Temple, the Temple of the tank and the Temple of Mercy, and the Temple of the Maharajas, which must pass through to enter the territory of the summer palace. On the territory of the second courtyard of the palace to Temple Library, Temple deities and main temple. 
Winter Palace, built according to the drawings Russian Emperor Nicholas II, was covered with sheet iron roof and was painted green. The two-storey palace are Waiting Room, Reception Room, Room portraits, Great Room Spouses, Golden Room and others. In the palace Bodgo Gegen collected 8124 unique exhibit, art, ancient stuffed animals, jewelry. Special historical value is the collection of mechanical inventions which brought Bogd Gegen Dzhavdzandamba.